Chooser Guide
Our handy guide is a tool to help you chose the right mattress for your needs.
Mattress –
Firmness
Firmness and comfort are among the top considerations Irish Shoppers have when it comes to mattress preference. But they can be subjective assessments so we have a handy mattress firmness guide which although not a scientific tool, serves to help understand the relative firmness across our King Koil mattress range. We recommend trying out the mattress in store first so you're sure it's the right one for you personally.
The Sleep Foundation suggest that there is a link between body weight and firmness. That a lighter body will benefit from the pressure-relief provided by softer mattresses and that a heavy body will benefit from the shape keeping support of a firm mattress. There are no studies to support this explicitly so we believe that it is most important to test your mattress in-store before you buy.
King Koil mattress range is broken into 3 Firmness categories.
1 = Soft
2 = Medium
3 = Firm
Mattress –
Type
Comfort is very personal, you only know it when you feel it. Comfort is delivered by both the overall feel of the mattress and also by the surface layers or the top sleep-surface of the mattress. King Koil handmake a range of five types of mattress to offer a rounded choice. Knowing the basics about each of these types can serve to assist you.
Mattress –
Price
Studies show that our sleep and wellbeing are linked. The benefits of better quality sleep surfaces will be enjoyed over many years and we believe that a spend on a new mattress is an investment, not a cost – an investment in your health and well-being. Investing €1500 in a quality bed set (mattress and support base) is equivalent to investing 40 cent per night, over the typical 10 year life span.
A quality mattress has entry prices of around €700 for a double size (4'6" wide) and most premium mattresses are priced at €1,000 and above. A useful rule of thumb is to invest more in a mattress that is going to be used every night either by adults or children. And remember that growing young bodies need proper support too so it is better to avoid hand me down mattresses. A mattress in a spare room or guest room used infrequently may not require the same level of investment.
Mattress –
Safety & Sustainability
Through our choices and actions, we can all look after the future of our community and planet. Choosing products that are produced locally and sustainably helps. At King Koil we are continually improving to play our part:
Sizes
The following are the standard sizes that apply in Ireland and the UK and their nearest metric equivalent for mattresses and divan bases: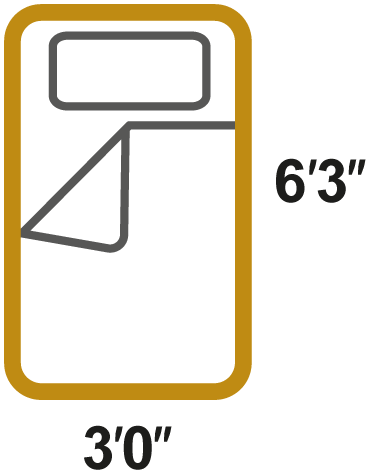 3'0" x 6'3"
(90 x 190cm appx)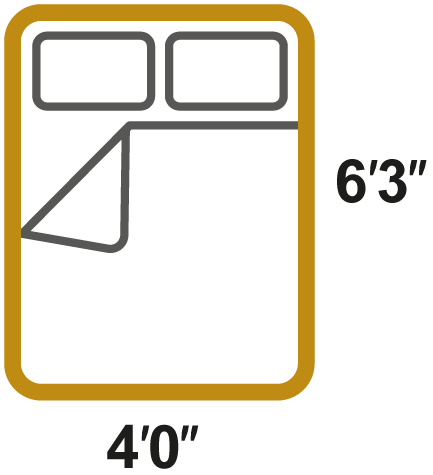 4'0" x 6'3"
(120 x 190cm appx)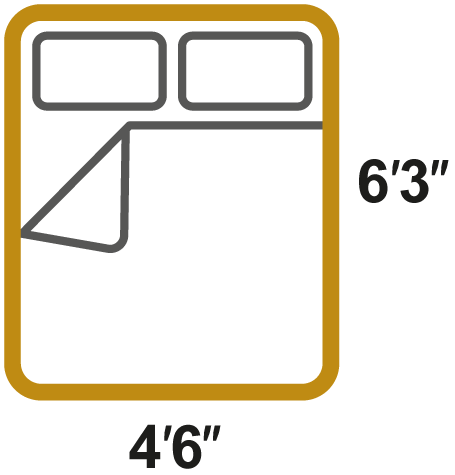 4'6" x 6'3"
(135 x 190cm appx)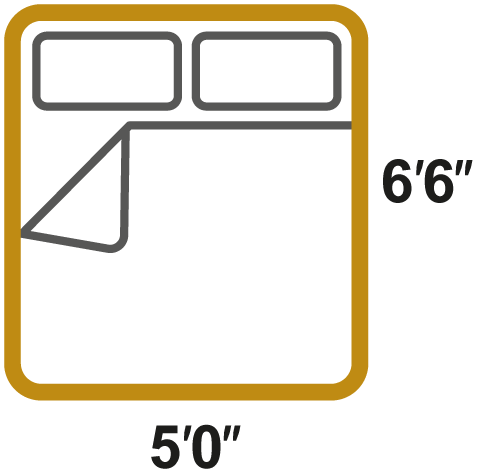 5'0" x 6'6"
(150 x 200cm appx)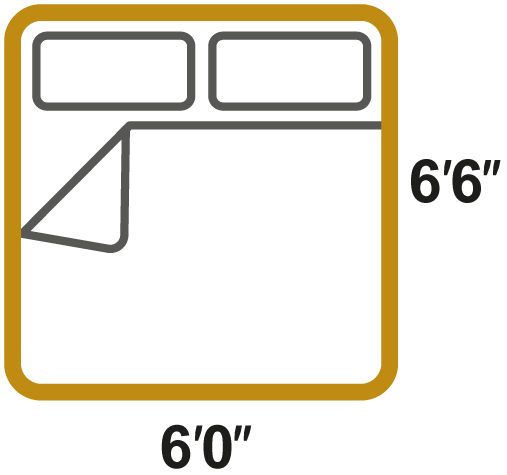 6'0" x 6'6"
(180 x 200cm appx)
*Zip and Link option is available on some Super-King models – each individual mattress and base measures 3'0" wide x 6'6" long and the zips join them together to make one large Super-King Z/L Bed Set. This allows for ease of access where space is tighter.
If you have been used to a standard double bed then perhaps trade up to a King size or even a Super-King size for your next purchase – the extra width and length in terms of space will be well worth it.
Allow for a degree of tolerance in mattress measurements – plus/minus 1" (3cm) either way as they are handmade. Take particular note when the mattress is going on a slatted bedframe.
THE NATIONAL BED FEDERATION (NBF) RECOMMENDS THAT BEDS, MATTRESS AND BASE, BE REPLACED AFTER 8-10 YEARS.